Hi Alpine
Is it this one?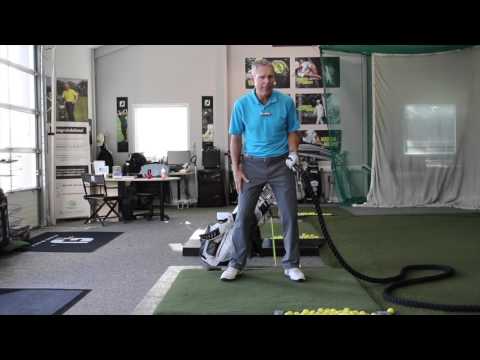 But remember :
Replicating that feel with the club (ie. the feeling of pulling the rope through to target i
n the late downswing
) is really teaching you how to dynamically swing your arms/club unit correctly in the
early downswing
I know that sounds weird but it takes time for a subconscious action to be felt (ie. registered in the brain) and the golf downswing is so quick that what you felt in your hands near impact is a reflection of 'what you did' earlier.
To prove this , look at this image below where you can see there is forward bend in the shaft approaching impact (apparently this can be shown to happen in virtually all PGA pro golfers from 5-iron to Driver). This means that there is 'negative' torque in the hands and that means that the hands cannot keep up with the rotation of the club shaft . The hands are actually
being pulled by the angular momentum of the club
and end up
resisting against the grip
rather than pulling into impact (like that heavy rope).
The heavy rope feeling that you might replicate with a club is not a reflection of what is actually happening from a physics standpoint. It's GOOD golf instruction because that pull feeling 'intent' through impact might help other aspects of your golf swing (like getting out of the way or limiting any deceleration by hitting 'at' the ball instead of through to target), but the physics you see in that heavy rope (where its lagging through impact) is not what happens in a real golf swing.